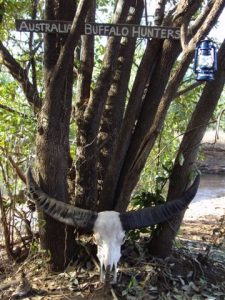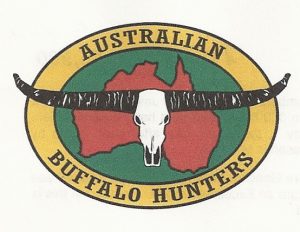 Welcome to outback Australia! Australian Buffalo Hunters (ABH) specializes in dangerous game safaris for rifle and bow-hunters in scenic Arnhemland in the tropical Northern Territory. Main species include Water Buffalo, Wild Ox (Scrub Bull) and occasional Wild Boar. Real hunters will enjoy exploring and hunting their genuine wilderness concessions on foot with your classic express double or big game bolt rifle. Australian Buffalo Hunters only offer the best wild hunting possible, the best service, the best Arnhemland concessions, traditional ethical hunting and genuine large herds of wild Water Buffalo. Look no further, ABH provides the finest quality wilderness Water Buffalo hunting available.
ABOUT AUSTRALIA
Australia ranks as one of the best places to live in the world by all indices of income, human development, healthcare and civil rights. The sixth-largest country in the world by land mass, its comparatively small population is concentrated in the highly-urbanised east of the Australian continent. Aboriginal Australians, who had inhabited the continent for tens of thousands of years prior to British colonization, currently make up less than 3% of Australia's approximately 23 million people.
The political entity that is modern Australia began to come into being with the arrival of British settlers in 1788. Many of the first settlers were convicts, but freemen started to arrive in increasing numbers after the discovery of gold in the mid-19th century. Originally composed of six separate colonies of the British Empire, Australia's path to independent statehood began with the formation of a federal state in 1901 and was largely complete by World War II. The last few remaining constitutional links with the United Kingdom were severed in 1986, although Australia remains part of the Commonwealth, and The Queen is the head of state, represented by a governor-general.
The island continent combines a wide variety of landscapes. These include deserts in the interior, hills and mountains, tropical rain forests, and densely-populated coastal strips with long beaches and coral reefs off the shoreline.
Through its isolation from other continents, Australia has developed an abundance of unique plant and animal life, most famously marsupials such as the kangaroo.
GENERAL INFORMATION
HUNT SEASON & HUNT FLIGHTS: The best months for Buffalo hunting are June, July, August with temperatures in the perfect range of 27-34˚C (80-93˚F) maximum and 20-23˚C (68-73˚F) minimum. Then in September the maximum can get to 36-40˚C (97-104˚F). This is the DRY Season when hunting is at its best and 4wd access is possible in the concessions. By mid-October the maximum temperatures are 38-44˚C (100-111˚F) with the tropical WET Season rains starting that last through to April.
To get to Australia, United Airlines, Virgin and Quantas offer direct flights from Los Angeles and Dallas/Ft. Worth to Sydney or Brisbane. An additional domestic flight will get you to Darwin. A 1 1/2hr charter flights between Darwin and the Arnhemland Hunt Areas will get you into Buffalo hunting territory.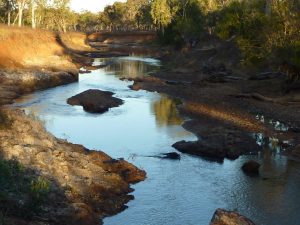 ARNHEMLAND REAL WILDERNESS: Aboriginal owned Arnhemland is like another country, situated well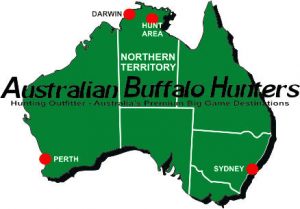 east of Darwin and Kakadu, consisting of almost 100,000 sq km of bush country (600,000 sq miles) which is approximately the size of Denmark. Arnhemland is a place where time stands still, no farms, no fences, no sealed roads. Your ultimate experience will take you on a rare journey into the outback wilderness, flood plains, wild bush, scenic rivers and escarpement country. Arnhemland is one of the worlds last frontiers, where local people live off the land in small communities, hunting, fishing and following traditional values. The only place in Australia with large herds of totally free range, wild Water Buffalo.
DANGEROUS GAME: Water Buffalo bulls weigh 700- 900kg and can get up to 1,000kg (2,200lb). Their extremely tough skin can be 25- 50 mm (1- 2″) thick around the neck area with the frontal skull bone of a very old Bull around 25-50 mm (1- 2″) thick. Water Buffalo can be just as tough and nasty as Cape Buffalo and as the terrain is often thick bush expect many close encounters. So you need to be alert and prepared as ABH's hunters and guides have been charged many times.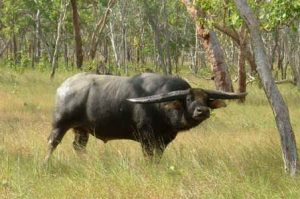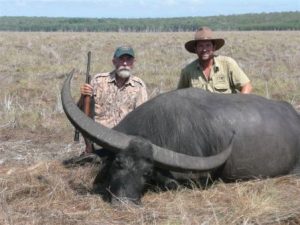 Hunts take place amongst large numbers of wild Buffalo where only mature and big old bulls are taken each season. Trophy sizes range from 90-110 SCI with many 100-130 cm (42-52″) wide bulls taken in these concessions. Reality is that most very old Bulls have worn horns around 85- 96 SCI. Buffalo roll in the mud or sand every day, and push their horns into the ground to roll their bodies over and upside down. However this damages the horn tips on old boys and can wear 3 to 5″ off each side, effecting 6-10 points of score. Bulls with horns that curve back with sharper points are more likely to score 98-105 SCI. Bulls with a heavy wide 42-50″ spread and straight horns are often the most impressive trophy, yet score around 85-95 SCI. These areas have all types of trophy. To most hunters score is not important, they want a mature bull or very old bull, an ethical hunt, great stalks and close encounters. The choice is yours. Make the challenge; come and experience Australia's best wilderness dangerous game hunting.
SAFARI RIFLES: You can bring your own rifle or use one of Australian Buffalo Hunters. ABH has .375 H&H & .416 Rigby rifles available with quality Ziess optics with "quick detachable" mounts. Overseas hunters in the Northern Territory must obtain a Northern Territory Police International Visitors Firearm Licence, so there is a need to submit the application form as early as possible if you plan to use your own rifle on safari.
BOW-HUNTING: Buffalo have excellent smell, eyesight and hearing. Bow-hunters will appreciate the variation of terrain and the experience of ABH's guides. Medium to light color camo works well in the Australian bush as well as leafy suits which are excellent. Remember this is a thick skinned dangerous game animal equivalent to hunting Cape Buffalo or Hippo, so please come equipped with a +70- 80lb bow and heavy 800-1,000 grain arrows with strong 2 blade broad-heads. You will never forget the tension and excitement of being close up on large Buffalo bulls, the amazing stalk, the draw, releasing your shot and watching the flight!
PREMIUM ARNHEMLAND SAFARIS: With 16 years of operating in central Arnhemland, Australian Buffalo Hunters deliver excellent trophies because they do not over-hunt their four, long term licensed concessions which adjoin to cover over 160 x 80 km (100 x 50 miles). The areas that are hunted are highly productive areas due to the good soils, grasses, springs and an abundance of fresh water. These are genuine Free Range concessions for Australia's best Buffalo hunting where the area knowledge of ABH's guides ensures your success. You will trek along century old Buffalo trails in scenic valleys bordered by rock escarpments leading to streams, rivers and billabongs edged with tropical vegetation. Hunt the thick and heavy cover or walk the open plains and rugged hills to glass herds of roaming wild Buffalo. Only a few safari companies have correct authority to operate in Arnhemland; a privilege few hunters will ever experience.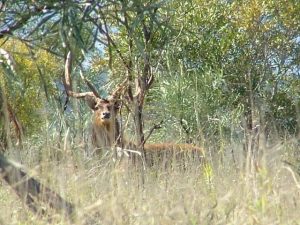 DEER HUNTS: International hunters doing Water Buffalo with Australian Buffalo Hunters can upgrade their itinerary to include quality Deer hunting. Free range deer hunts for excellent trophy Chital (Axis), Red Deer, Javan Rusa Deer, Moluccan Rusa Deer in Queensland and the elusive Sambar Deer in Victoria where a high level of fitness and effort is required. Note: These hunts are in the best areas, and require travel to one or two other Australian States. Each species is a seperate wild hunt. The Javan Rusa hunting area is a fantastic 20,000 acre private property with many large WILD heads available on June/July hunts to be combined with Buffalo hunts.
AVAILABLE SPECIES
Arnhemland:
Water Buffalo – Trophy & non-trophy
Wild Boar – Trophy
Other Wild Pigs
Scrub Bull (Wild Ox)
Country-wide:
Banteng
Axis Deer
Fallow Deer
Javan Rusa Deer
Moluccan Rusa Deer
Red Deer
Sambar Deer
ACCOMODATION
CLASSIC TENTED SAFARI CAMPS: Australian Buffalo Hunters use old style Expedition tented safari camps. These are often moved during the Dry hunting season to be amongst the best numbers and herds of Buffalo then removed again for the Wet season.
NOTE: These are not luxury camps with extra staff (like most Southern/Central African camps). These wilderness concessions are amongst the most remote in the world and the hunting is hot, dusty and hard work. You are in the wild. The two main camps are very comfortable with large tents, flushing camp toilets, hot canvas bag showers, plus quality snacks, main meals and drinks. All camps have a lovely location, on a picturesque river or stream, often with herds of Buffalo roaming past!
Many species of Australian birdlife come in for water near camp and kookaburras, kingfishers, kites and hawks cruise along the river. Bring your wife and family to relax in the bush, or experience the Buffalo. In the evenings, hunters talk of the Aussie outback and their hunting experiences around the campfire and under the stars.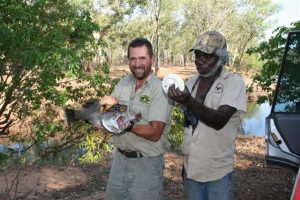 BARRAMUNDI FISHING: After your hunting in the Northern Territory you can fish the rivers and billabongs for Barramundi and Saratoga which are two of Australia's renowned fighting fish. Keen fishermen travel from all over the world to experience Barramundi fishing in the Top End. Exciting river and ocean Fishing charters are available from Darwin.
YOUR HOST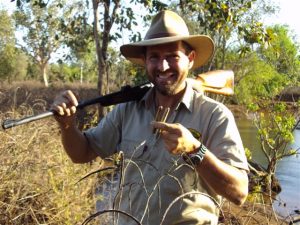 Graham Williams is the Outfitter/Owner of Australian Buffalo Hunters. As well as been a devoted and ethical hunter he is also an award winning guide and Life Member of SCI, IPHA & SSAA. Graham has a great team with a passion for big game hunting and the Australian outback. They support many hunting and conservation organizations, conducting business in a professional manner and have quality equipment for operating in remote areas. Their AIM is to ensure you have the Best traditional big game hunting that remote Australia has to offer. Even if you shoot the biggest Bull ever, they know you will return!
Graham invites you to "Meet the Challenge" to come and experience Australia's best buffalo hunting. We always remembered our toughest hunts, the beautiful animals and the most scenic places. Hunting to many is a reason to take us all over the country or to different places in the world. A real hunt is hard work; you must train so you are fit, be ready to cover lots of ground and carry your rifle and gear. These Buffalo hunts are special as they are conducted on foot the old fashioned way. It is usual to cover 10-15 km a day and view plenty of Buffalo. The hunter and guide must work together, hunting and approaching downwind so the Buffalo are undisturbed. All these factors and effort, make an important result; that the hunter has taken his trophy fair and square. The ethical hunter will be proud of his or her efforts and trophy.
BOOKING YOUR SAFARI
For Buffalo and other species you will need to:
Secure your hunt dates now – a year in advance to secure prime time.
Get fit.
Load up and practice both rest and offhand shooting; slow and fast.
If you wish to hunt 2×1 another hunter can be arrange if required.
Custom hunts and exciting fishing trips can be arranged.
Australian Buffalo Hunters has a 100% success rate and great references.
"Buffalo hunting is a disease, with no cure… only treatment".