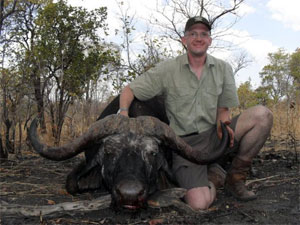 Kambako is the largest and most successful operator in the Niassa Reserve in Mozambique. Kambako offers "Old Africa" style hunting as our forefathers hunted in pristine wilderness.
Kambako Safaris operates in Block B and Coutada, adjoining leases totaling 3,000 sq km which border the Niassa Reserve along the Lugenda River. This area is located 200 km south of the Selous Game Reserve in Tanzania. The Niassa Reserve totals a massive 42,000 sq. km and creates a buffer zone around the Selous, which includes Kambako. These zones, operated by private investors assume the responsibility to preserve and enhance the flora and fauna of the area and keep the human footprint to a minimum, thus preserving the environment of the reserve.
Kambako is home to the African "Big Four", including a large population of mature Elephant with a strictly enforced Lion off-take policy. Besides about 1,200 Buffalo and serious numbers of cats including quality  Leopard trophies, several rare species are also available including: Johnson's Impala, Lichtenstein's Hartebeest, Niassa Wildebeest, Red Duiker, Roosevelt Sable and Suni.
The hunting season is from June 1st to the end of November. June is cooler but the bush is relatively thick but good for cat and elephant hunting. As the season progresses, the bush dries out and tracking of game gets easier.
Two comfortable camps are operated with the larger Lugenda Camp situated on a high bank over-looking the Lugenda River. The eastern Coutada camp is nestled on the canopied banks of the Namaho River surrounded by dense bush with abundant night-time wildlife sounds. Though it is remote, Kambako has the necessary equipment and personnel to cater to any needs their clients may have. An extensive fleet of modern fully equipped, 4×4 Land Cruiser vehicles along with HF radio links, satellite telephone, email and charter plane access are all provided to ensure adequate transportation and constant communication coverage. Hunting safari days commence the morning after arrival in camp and terminate on the evening before departure. Travelling days are not considered safari days. Some exceptions may occur due to method of travel and client time availability.
There are several different options to reach Kambako but the most efficient route is for clients to arrive and depart through Pemba on the northern Mozambique coast. Pemba is serviced twice a week on  Wednesdays and Saturdays by South African Airlink on a direct return flight from Johannesburg, South Africa.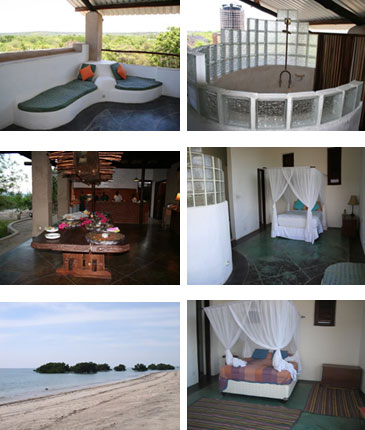 Your travel or booking agent can assist you with your travel and accommodation arrangements prior to and after your safari.
Clients flying into Pemba on a commercial flight can then fly directly into camp on Kambako Safaris company Cessna 207. With large groups and excessive luggage weight a Cessna Caravan can be arranged through Kambako to get clients in and out of camp.
Alternatively clients may wish to over-night in Pemba at Kambako's Beach Lodge (pictured to the left).
Due to restrictions on luggage space available on certain aircraft and take off restrictions from certain airstrips, clients are requested to pack minimal luggage and to use soft bags. (The company can assist with soft gun cases). The usual weight restrictions, including guns and ammo, is two bags with a total of 30kgs (66lbs). Please note that laundry is done daily and clients should not over pack.
About Mozambique
Customs clearance is required at your port of entry into South Africa (Johannesburg) and Mozambique (Pemba). All visitors are required to have a passport with at least two blank pages, valid for a minimum of six months beyond the intended date of departure from Mozambique.
Visas – All non-Mozambique citizens MUST have a visa to enter the country. Visas are available upon arrival at Pemba Airport for a nominal fee of US$25.
Firearms – Prior to your arrival in Mozambique all firearms and ammunition require Import Permits and police clearances that are issued in Maputo.
Please note the following:
A maximum of two rifles and one shotgun per person are allowed into Mozambique with a maximum of 100 rounds of weapon specific ammunition each.
No semi automatic or military style firearms are permitted.
No permits are required for bows
Handguns are permitted for hunting.
Soft bags are recommended to be brought along for use when transferring from Pemba to camp by small plane charter.
The following is required by Kambako Safaris to be emailed in .jpg format at least 3 months prior to your arrival:
Scanned copy of your passport page
Scanned copy of a passport size photo
For American clients a scanned copy of your Customs Form 4457
For European clients a scanned copy of your Firearm Licence
A filled out and scanned copy of the Kambako Safaris Information Sheet
Hunting: Kambako operates to very strict quotas and clients need to reserve the animals they want to hunt at the time of booking their safari. Kambako will purchase the animal government licences prior to your arrival for the animals you have reserved. In the event that you don't shoot these reserved animals, the government licence fees are NOT refundable.
In the event that a client decides in camp to hunt an animal which was not originally reserved and which is still available on quota, there will be a 50% surcharge amount charged on top of the stipulated pricelist government licence amount.
Mozambique borders Tanzania, Zambia, Malawi, Zimbabwe, South Africa and Swaziland. The country has one of the longest coastlines in Africa with over 2,000km (1,250 miles) with exquisite beaches, coral reefs, and islands. Inland the landscape rapidly changes to coastal plains, swamps, plateaus, alluvial valleys, mountain ranges and Miombo Woodland.
Due to the differences in latitude and the Indian Ocean, Mozambique has a varied climate. Coastal areas are considered warm and temperate during all months with surge in temperatures from October to March. Inland climates vary due to the variance in altitude but are considered moderate during the winter months, May/June/July/Aug. An average temperature of 22 degrees centigrade (72F) is encountered. Temperatures rise to 40 degrees centigrade (104F) during October/ November with seasonal rains starting in late November. Generally our hunting temperatures are pleasant with nights and early mornings being quite cool.
The official language throughout the country is Portuguese with Swahili widely spoken in the northern provinces.
General information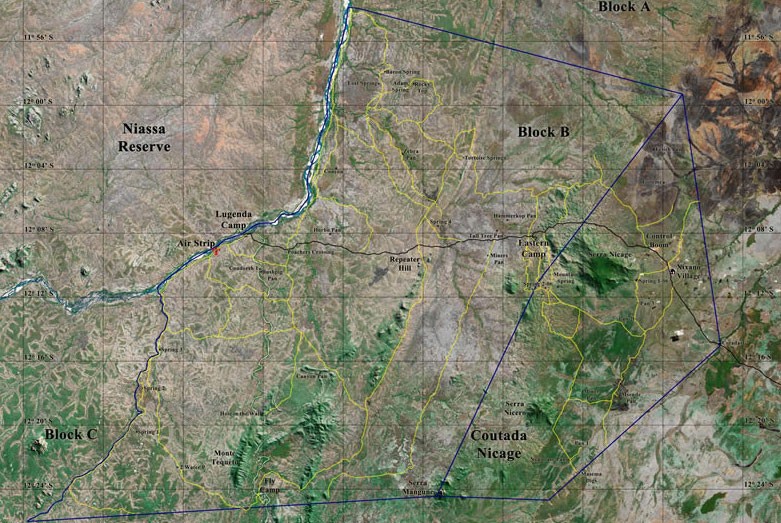 – Size: 269,000 hectares (592,000 acres)
– Part of the 4,200,000 ha (9,240,000 acre) Niassa Game Reserve
– Predominantly Miombo Woodland with hills, riverine and jesse bush
– 57km (35 miles) of Lugenda River frontage that flows all year
– 5 major river systems within the area with over 300km (190 miles) of riverine
– 1,100m (1,210 yard) airstrip
– VHF Digital Radio network throughout the concession area
– Over 800 km (500 miles) of hunting roads
– No swamps
– No landmines
– No domestic livestock, villages or dogs
– Tsetse fly present
– Malaria is present
– 4 hunting camps within the concessions;
Trophy information
Kambako has out sourced their dipping, packing and shipping of clients' trophies to an independent specialist, Mochaba Investments, who has been in this field for over 15 years. Mochaba's main office is in Maun, Botswana but for the past 6 years they have had a representative based in Maputo and presently Mochaba deals with virtually all of Niassa Operators trophy shipments.
CITES (Convention for International Trade of Endangered Species)
Whilst Kambako guarantees that all animals offered are covered by local and international quotas and are legal to harvest in Mozambique, the same cannot be guaranteed world wide as each country has its own import laws. This applies to CITES and the signatory countries. Kambako shall provide local permits for game animals, CITES appendix II (lion, hippo and baboon) international export permits. Before a CITES I export permit can be issued from Mozambique, (leopard), we need to have a CITES I import permit from the country to where it is going.
Species available
Baboon          – Yellow
Buffalo           – Cape
Bushbuck
Bushpig
Crocodile
Duiker            – Common and Red
Eland
Elephant       – trophies not permitted into USA at this time.
Hartebeest   – Lichtenstein
Hippo
Hyena
Impala           – Johnston
Kudu
Leopard
Lion
Sable               – Roosevelt
Suni
Warthog
Waterbuck
Wildebeest   – Niassa
Zebra              – Boheme
Company Trophy Statistics
Elephant average of 77 pounds over past 6 years
Buffalo average of 39 3/4″  and 100% success since July 2007
Leopard – 98% success rate since 2005 (all males)
Sable average of 39 3/4″.
Lion trophy average age – 7 1/2 years.
Hunting camps and concessions
– 2 main permanent luxury camps ("Kambako" and "Namaho") and 2 bush tented fly camps
– All camps run on 220v generators
"Kambako Camp"
6 individual chalets that can sleep 12 clients extremely comfortably.
All chalets are en suite with fans, hot and cold water showers, basins and flush toilets.
2 air conditioned chalets. ***** These need to be pre-booked.
Has broadband speed internet.
Indoor infinity swimming pool.
3.6 x 2.4 x 2.4m walk in cold room and butchery area.
Drive through skinning shed with safe and secure trophy strong room.
2 x 25 KVA diesel generators.
Click on the images below for a larger view:
"Namaho Camp"
2 large safari tents on raised wooden decks under thatch that can sleep 4 clients comfortably
Tents are en suite with hot and cold water showers, basins and flush toilets
2 x 6Kva diesel generators
Skinning shed and storeroom
"Tented Fly Camps"
2 large safari tents on concrete slabs that can sleep 4 clients comfortably
Outside shared ablutions with hot and cold water showers, basins and flush toilet
1 x 6Kva diesel generator
Skinning shed
EQUIPMENT
1 x Cessna 207 aircraft for client transfers
6 x new model Land cruisers all equipped with radios, winches and safari bars
2 x 4wd trucks for resupplies
2 x 80Kw 4wd tractors
1 x D4 Caterpillar bulldozer
1 x 4 ton grader