Sandriver Safaris offer rifle, handgun, bow and black powder hunting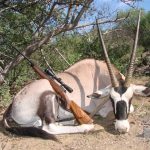 for experienced and novice hunters and also welcomes father and son/daughter and family hunts.
Sandriver Safaris is situated in the Musina district about 100 kilometers west of the Kruger National Park. This is in the heart of the bushveld of the far Northern Province of South Africa. Sandriver Safaris offer both hunting and photographic enthusiasts an experience not to be forgotten. With their hunting exemption, there are in excess of 25 species of game that can be hunted throughout the year on 25,000 acres of pristine African bush. Species that are not available on the property can be hunted on available concessions in other areas as well as further north in Zimbabwe.
Johan Wolvaardt, owner of Sandriver Safaris has been a professional hunter and outfitter for 29 years. His policy is to conserve for the future by the wise utilization of our natural resources.
About South Africa
South Africa is a medium-sized country, with a total land area of 1.22 million square kilometers (470,693 squ. miles), or roughly one-eighth the size of the US, twice the size of France and over three times the size of Germany. It measures some 1,600km (960 mi) from north to south, and roughly the same from east to west. The country has a population of 50.1m people with 11 official languages including English, Afrikaans, Sesotho, Setswana, Xhosa and Zulu.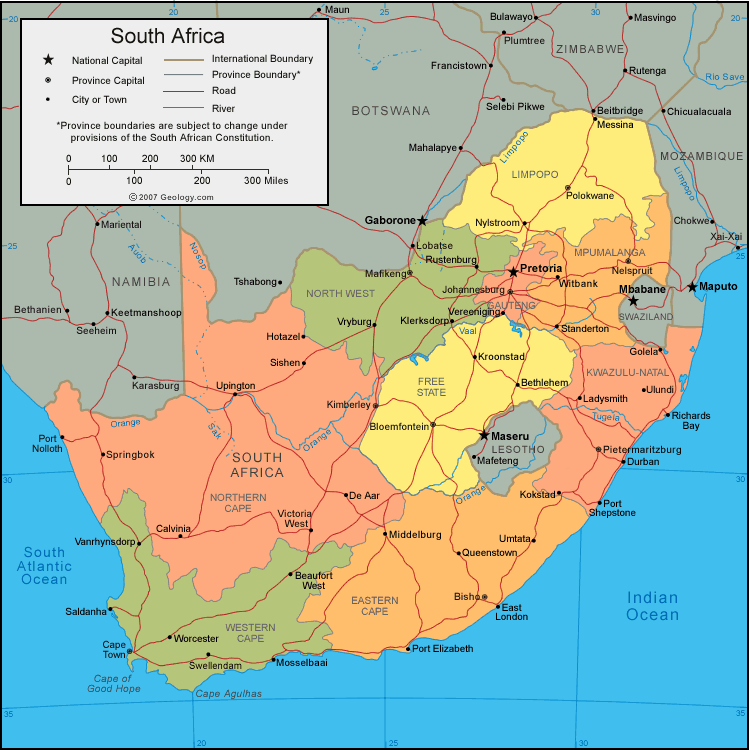 South Africa occupies the southern tip of Africa, its long coastline stretching more than 2 500km (1,500 mi) from the desert border with Namibia on the Atlantic coast, southwards around the tip of Africa, then north to the border with subtropical Mozambique on the Indian Ocean. The low-lying coastal zone is narrow for much of that distance, soon giving way to a mountainous escarpment that separates it from the high inland plateau.
The cold Benguela current sweeps up from the Antarctic along the Atlantic coast, laden with plankton and providing rich fishing grounds. The east coast has the north-to-south Mozambique/Agulhas current to thank for its warm waters. These two currents have a major effect on the country's climate, the ready evaporation of the eastern seas providing generous rainfall while the Benguela current retains its moisture to cause desert conditions in the west.
A subtropical location moderated by ocean on three sides of the country and the altitude of the interior plateau, makes South Africa a warm and sunny country. But it's also dry, with an average annual rainfall of about 464mm (18 inches). While the Western Cape gets most of its rainfall in winter, the rest of the country is mostly a summer-rainfall region.
On dry land, going from west to east, South Africa shares long borders with Namibia and Botswana, touches Zimbabwe, has a longitudinal strip of border with Mozambique to the east, and lastly curves in around Swaziland before rejoining Mozambique's southern border. In the interior, nestled in the curve of the bean-shaped Free State is the small mountainous country of Lesotho, completely surrounded by South African territory.
Although the country is classified as semi-arid, it has considerable variation in climate as well as topography. The great inland Karoo plateau, where rocky hills and mountains rise from sparsely populated scrubland, is very dry, and gets more so as it shades in the north-west towards the Kalahari Desert. Extremely hot in summer, it can be icy in winter. Further north and to the east, especially where a drop in altitude beyond the escarpment gives the Lowveld its name, temperatures rise: the Tropic of Capricorn slices through the extreme north. This is also where one finds the typical South African Bushveld of wildlife fame.
Winter in South Africa (May to July) is characterized in the higher-lying areas of the interior plateau by dry, sunny, crisp days and cold nights. So it's a good idea to bring warm clothes.
The hot, humid KwaZulu-Natal coast, as well as the Lowveld (lower-lying areas) of Mpumalanga and Limpopo provinces, offer fantastic winter weather with sunny, warmish days and virtually no wind or rain.
The Western Cape gets most of its rain in winter, with quite a few days of cloudy, rainy weather. However, these are always interspersed with wonderful days to rival the best of a British summer.
The high mountains of the Cape and the Drakensberg in KwaZulu-Natal usually get snow in winter.
General information
Sandriver Safaris has a team of dedicated and highly qualified professional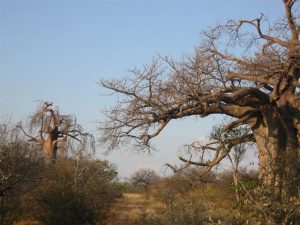 hunters and trackers. Besides having a genuine Bushman tracker on this team, trained dogs are also used to assist in tracking down wounded animals.
Quad motorbikes are available for bow hunters for easy access and departure from hunting blinds.
All hunting vehicles are fully equipped with radios, which enables the hunting party to be in constant contact with the base camp. This expedites collection, skinning and caping of trophies by highly skilled staff members. Taxidermy services are also available.
Rifle hire is also available.
Available species
African Wildcat
Baboon
Blesbuck – Common
Bushbuck
Caracal
Civet Cat
Duiker – Common
Eland
Gemsbok (Oryx)
Genet Cat
Giraffe
Grysbok – Sharpe's
Hartebeest – Red
Impala
Jackal
Klipspringer
Kudu
Leopard
Nyala
Serval Cat
Steenbuck
Wildebeest – Blue and Black
Warthog
Waterbuck – Common
Zebra – Burchell
Additional animals available in other concessions
Blesbuck – White
Buffalo – Cape
Elephant
Fallow Deer
Lechwe – Red
Reedbuck – Common and Mountain
Springbok
Tsessebe
Accommodation
Two exquisite lodges are operated, all within close proximity of each other, each with its own unique African atmosphere.
Eya Khala Lodge
Is situated high up on a ridge overlooking the Sand River.
Individual chalets that can sleep up to 3 clients/chalet comfortably.
All chalets are en suite with fans, hot and cold water showers, basins and flush toilets. Some have air-conditioning.
"Lapa" area for enjoying a fire in the evening.
This camp offers a true sense of complete freedom with excellent game viewing from the comfort of the covered bar area.
Sunsets take on a new meaning when seen from Eya Khala Lodge.
Please click on the images below for a larger image:
Malala Lodge
Is surrounded with indigenous trees that form a natural canopy over the lodge area that lends to the African bush feel.
Has a selection of en-suite and air-conditioned rooms with hot and cold water showers, basins and flush toilets.
The entertainment area, which is under thatch, has a bar, mini pool table and satellite television.
A sparkling pool also compliments this camp.
The tranquil stream running alongside this camp gives you a feeling of complete relaxation and contentment.
Please click on the images below for a larger image:
Both camps also boast their own resident chef who prepares exquisite traditional cuisine including a variety of venison dishes.