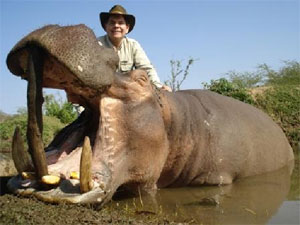 Threeways Safaris offers genuine, "fair chase" hunting and has been conducting successful hunts in Southern Africa for more than twenty years. A wide selection of African game is offered in areas ranging from grassland to thick Mopani Woodland. The hunting base is Tokkie van der Merwe's 28,000 acre, private ranch in the Lowveld of Southern Zimbabwe. The game is free ranging and includes a good variety for the trophy hunter to choose from. The rustic thatched camp is set in the dense riverine forest on the banks of the Bubye River.
Tokkie was the recipient of SCI Houston's 2007 Safari Operator of The Year and SCI Georgia's 2009 Outfitter of The Year award.
About Zimbabwe
Zimbabwe, 390,759 sq km or 150,873 sq miles, borders South Africa to the south, Botswana to the west, Zambia in the north and Mozambique in the east. English is the official language with Shona and Sindebele the most commonly spoken local dialects. The country is encompassed by the might Zambezi River on its northern border and the Limpopo River in the south. Zimbabwe is also home to the Victoria Falls, one of the natural wonders of the world, the stone enclosures of Great Zimbabwe, remnants of a past empire and to herds of elephant and other game roaming vast stretches of wilderness. Hunting is available throughout the country, with big game concession areas from the northern Zambezi Valley to the Southern Lowveld. The principal attractions in Zimbabwe, besides its renowned hospitality and great hunting, are the plentiful Cape Buffalo and Leopard which can be taken for a reasonable fee, along with some magnificent plains game.
The summer months (October – March) which is the rainy season, can be hot (up to 110°F in the Zambezi Valley and the Lowveld), but mild on the higher ground of the main watershed (runs almost north to south through the center of the country). It is common to experience days of sunshine with a build up of clouds to heavy showers and back to sunshine.
The months of May – September are best for hunting with mainly clear blue skies and mild temperatures. When hunting on the watershed, frost can be encountered in the early mornings but by 10:00AM it has warmed up to "T-shirt" temperatures. It is not uncommon for temperatures to vary by as much as 50°F from day to night, so a range of clothing is advisable. A hat and good walking boots are essential.
No vaccinations are required for entry into Zimbabwe but it is advisable to contact your GP or the CDC for the latest health requirements before you travel.
When traveling to most southern African countries there is a requirement to take malaria prophylactics.
General Information
Threeways Safaris offers a variety of species from plains game to dangerous game hunting in easily accessible concessions in Zimbabwe and parts of South Africa. In 2008, Threeways Safaris acquired the Beit Bridge East Concession Area. This area together with the Sengwa 2 Concession makes up a total of 500,000 acres which is located between two national parks, Gona-re-zhou in South Eastern Zimbabwe and Kruger National Park in the North East of South Africa. Part of this concession area shares a 26 mile common border along the Limpopo River with the Kruger National Park and is consistently producing quality trophies; 42" Buffalo and Elephant over 60 pounds with the average in the low fifties.
Hunts are tailored to accommodate a client's desired choice of trophies. This choice determines the Port of Entry with both Harare International in Zimbabwe's capital or Gateway International in Polokwane, northern South Africa utilized. After your safari trophies are delivered to Harare for dipping, packing and shipment.
For Leopard, Elephant, Crocodile and Cheetah hunts, a certified photocopy of your CITES permit must be brought with you. Contact the US Fish & Wildlife on www.fws.gov or 1-800-344-WILD to apply for your CITES permit.
Threeways Safaris is an established firm with a long list of satisfied clients. With well staffed and comfortable accommodations, they offer the client a genuine African safari experience.
Any safari activity is potentially hazardous and it is essential that all lawful directions and advice from the safari operator be followed. While Threeways Safaris take every precaution to ensure the safety of their clients, they accept no responsibility for any accident, illness, loss or negligence whatsoever incurred in the course of the safari, or for any expense arising from such accident, illness, loss or negligence.
Available species
Baboon – Chacma
Buffalo – Cape
Bushbuck – Chobe
Bushpig
Caracal
Civet Cat
Crocodile
Duiker – Common
Eland – Livingstone's
Elephant – Trophy and tuskless
Genet Cat
Giraffe
Grysbuck – Sharpe's
Hippo
Impala
Jackal
Kudu
Klipspringer
Leopard
Nyala
Reedbuck – Common
Sable – Common
Serval Cat
Steenbuck
Tsessebe
Warthog
Waterbuck
Wildebeest – Blue
Zebra – Burchell
Accommodation
When hunting in the Beit Bridge Concession area for dangerous game, this tented camp is utilized.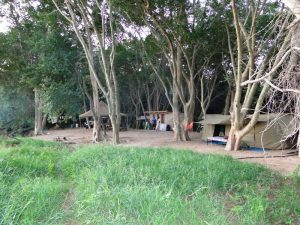 Accommodation on Threeways Safaris base camp is in six thatched chalets each with a shower and toilet en suite. This camp also serves as a B&B for travelers between Zimbabwe and South Africa.
Threeways Safaris has a limited bar selection for your enjoyment, but you are free to bring your own drinks. Dinners are a casual affair around our large dining table, where you meet with interesting people from all over the World.