Nengasha Safaris, based out of Bulawayo, has been operating extensively throughout Zimbabwe for more than ten years. As an established and renowned operator only experienced and knowledgeable Professional Hunter's (PH's) are utilized to offer quality hunts, packaged to suit the individual hunter's needs.
A wide range of hunts are offered, from plains game to big game safaris including Buffalo and Elephant. Some of their prime areas also produce excellent quality Sable and Leopard.
Nengasha Safaris is affiliated to the Zimbabwe Professional Hunters and Guides Association (Z.P.G.H.A.), the Safari Operators of Zimbabwe (S.O.A.Z.) and the Zimbabwe Tourism Authority (Z.T.A). All safaris are offered within the regulations and guidelines of the Zimbabwe Parks and Wildlife Management Authority strictly following the guidelines set up by these Associations, to ensure an unforgettable experience, as well as promoting conservation and community assistance.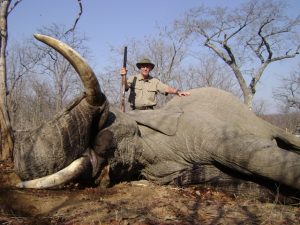 Nengasha Safaris operates four different camps around Zimbabwe, each one with something unique to offer. Hence they can tailor make any hunting as requested by clients.
Each client hunts with their own Professional Hunter (PH) to ensure maximum chances of success in your hunt. Everyone of the PH's are unique in their hunting and guiding abilities and knowledge of the bush. (The stories around the campfire will not be forgotten). Professional Hunters train and undergo examinations for two years before receiving their Full Professional Licence. They are registered and licenced under the National Parks Authority with each PH issued with a unique Licence Number.
Observers and family are welcome and well accommodated at Nengasha's comfortable safari camps. Their trained and friendly staff are there to ensure that you enjoy a unique African Bush experience and an unforgettable holiday.
About Zimbabwe:
Zimbabwe is a landlocked country bounded on the North by Zambia and Mozambique and the West by Botswana. Formerly the British Colony of Southern Rhodesia, the territory was unilaterally declared independent in 1965 and adopted a republican form of government in 1970. After a 15 year bush war, the territory installed a black majority government and became independent in 1980 as Zimbabwe.
The total area of the country is 150,873 square miles, slightly larger than the state of Montana. The majority of the country, excluding cultivated land, is made up of Mopani hardwoods. The Lowveld to the Southeast is made up of extremely thick Jesse bush, while the rolling midlands and Matetsi region are less dense. The total population of Zimbabwe is approximately 12,000,000, with the Shona representing 71%, Ndebele 16% and whites repre-senting less than 1%.
General Information: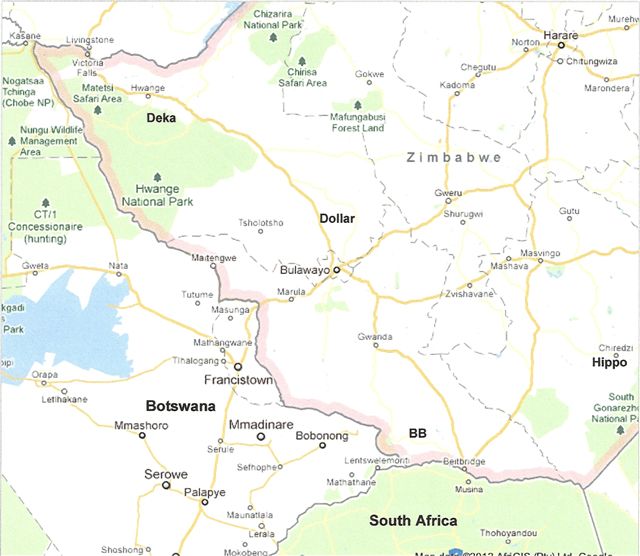 Hunting Areas:
Nengasha Safaris operates mainly in the western and southern parts of the country.
Deka Area
This area has a 60 km boundary with Hwange National Park.
Deka is a predominantly a big game area with good Elephant, Buffalo, Leopard and Lion. The average Elephant trophy size is between 40-50lbs with a chance of over 50lbs. There is limited plains game but this area has very good Kudu and Bushbuck.
Dollar Block / Bubi Campfire Area
Dollar Block is a 55,000 acre private ranch 100km north of Bulawayo with excellent plains game including Sable. There is also very good Leopard on Dollar Block.
The neighboring campfire area has good Leopard, Elephant (40 – 55lbs) and pockets of plains game.
Beitbridge (BB) West Campfire Area
This is a large CAMPFIRE area stretching along the Limpopo and Shashe Rivers bordering South Africa and Botswana. The area has excellent Leopard and plains game, Crocodile and Hippo and good numbers of Elephant. The Elephant trophy size averages 30-35lbs with the occasional 50lb bull.
Hippo Valley Estates
This area has outstanding Buffalo, reasonable plains game, Crocodile and Hippo. Hunts are conducted using a variety of techniques. Trophy elephant as well as cape buffalo are both tracked on foot in the traditional manner. Hunting the great cats, leopard and lion, is generally done from a blind over expertly hung baits.
Hunting Season:
Hunting can be conducted throughout the year in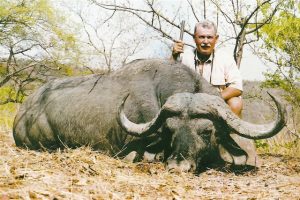 Zimbabwe. However, due to the rainy season, most of the dangerous game areas are not accessible from mid-November through mid-April. The one exception is the wet season elephant hunts which are usually conducted at the latter part of the rainy season from February to mid-April. The most popular African safari months are May to September. The nights can be quite cool in June, July and August with temperatures dropping into the middle 40's. However, the temperatures recover nicely into the 70's and lower 80's making the hunting very comfortable.
Transportation:
Travel to the city of Bulawayo is done via Johannesburg, South Africa on South African Airways, Comair or SA Airlink. Either way, total travel time is approximately 2 days. Upon arrival, you will be met at the airport by a company representative who will help with customs clearance, which generally takes about 30 minutes. Once cleared at Customs, you will be transported to your safari camp. Upon completion of the safari, you will be returned to the Bulawayo Airport and assisted with your check-in for your return flight home.
Guns and Ammunition:
A medium calibre bolt action rifle such as a .30-06 or .300 Win Mag is suitable for most Plains Game and Leopard. Large Antelope such as Eland require a minimum calibre of .338. If dangerous game is to be hunted a .375 H&H Magnum or larger is recom-mended. Use only the best premium grade bullets available such as Nosler, Barnes X or Trophy bonded. Solids are recommended for thick skinned animals such as Buffalo and Elephant. Sixty (60) rounds per calibre is suggested. It is wise to practice your shooting well before the safari so that you are totally comfortable with the rifle/s and ammunition that you intend to use.
A good quality scope is a must, especially on the light rifle. Lion and Leopard are generally shot under low light conditions and require a scope that gathers maximum light. A scope with a reticule illuminator is extremely useful when hunting the great cats.
Medical:
Nengasha Safaris subscribes to the Medical Air Rescue Service (MARS) and are linked to their HF radio network, thus enabling a Medical team to respond to any life threatening situations at short notice. Medical Insurance (optional) includes day of arrival and day of departure at US$10 per person per day with the MARS scheme. This will cover the ambulance and air rescue costs to the nearest suitable medical facility. All hospital and related medical costs are to be covered by the clients own medical insurance.
It is recommended that anti-malarial tablets be taken before, during and after your stay. Please consult your doctor in this regard. Although all hunting vehicles carry first aid kits, it is advisable to carry your own supply of prescribed medication and first aid supplies. Please ensure that your polio, cholera, typhoid and tetanus vaccinations are up to date.
Available species:
Baboon – Chacma
Buffalo Bull – Cape
Buffalo Cow
Bushbuck
Bushpig
Civet Cat
Crocodile
Duiker – Common
Eland – Livingstone's
Elephant – Trophy Bull
Elephant – Tuskless
Genet Cat
Giraffe
Grysbuck – Sharpe's
Hippo
Honey Badger
Hyena
Impala
Impala female
Jackal
Klipspringer
Kudu
Leopard
Monkey – Vervet
Nyala
Reedbuck – Common
Sable – Common
Serval Cat
Steenbuck
Tsessebe
Warthog
Waterbuck
Wildebeest – Blue
Zebra – Burchell
Accommodation:
Deka Safari Area
The camp consists of thatched "A"-Frame type chalets with ensuite facilities. There is mains electricity with a back-up generator.
Dollar Block
Dollar Block offers accommodation in brick under thatch chalets, all with en suite facilities.
Hippo Valley Estates
The camp consists of very comfortable lodges, a swimming pool, serviced with mains electricity and a back-up generator.
Beit Bridge West Campfire Area

The camp on the Limpopo River is tented with en-suite bathrooms and has mains electricity.